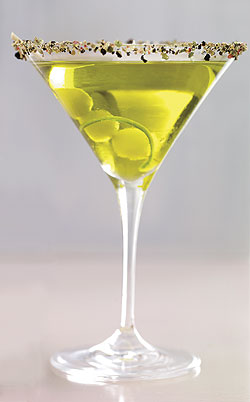 Typically, we associate green tea with a warm introduction to the day, an easy beverage on-the-go or a way to wind down in the evening. However, you can also enjoy your favorite Salada Green Tea as a part of a fun evening cocktail! Here are a few of my favorite recipes for you to share with your friends and family this holiday season:
Refreshing Tiger Tea
Ingredients:
4 ounces of Salada Green Tea, cooled
1 teaspoon of agave syrup*
1 teaspoon of lemon juice
Directions:
Mix all ingredients.
Serve over ice.
*Try adding agave syrup to your tea before it is cooled. This will help it dissolve evenly.
Traditional Hot Toddy
Ingredients:
6 ounces of hot Salada Classic Lemon Green Tea
Directions:
Mix the hot Salada Tea and honey until the honey is completely dissolved.
Add the brandy and lemon slice, and serve immediately.
Warm Almond Berry Tea
Ingredients:
1 ounce of amaretto almond liqueur
½ ounce of Grand Marnier® orange liqueur
4 ounces of hot Salada Purple Antioxidants Green Tea or Salada Pomegranate Berry Green Tea
Directions:
Pour amaretto and Grand Marnier into a glass.
Add hot Salada Tea and serve immediately.
If you're looking for a non-alcoholic cocktail, try Tara's Non-Alcoholic Green-Tini.
Ingredients:
¾ ounce of fresh lemon juice
1 ounce of Salada Green Tea syrup
Green Tea Syrup:
Directions:
For the syrup, combine the sugar and water in a pot and bring to a boil.
Pour into a container and steep the Salada Green Tea bag in the mixture for seven minutes.
Let cool and refrigerate until ready to use.
Begin making the Green-Tini by pouring the lemon juice and syrup in a cocktail shaker filled with ice. Shake vigorously.
Strain into a glass and mix with tonic water.
If you are mixing cocktails this holiday season, drink responsibly and make sure someone has been designated the driver for your party. Don't forget to drink lots of water and eat a healthy meal to avoid a headache the next day. A steaming cup of Salada Green Tea in the morning will put you on the right track to finish your holiday to-do list.
And remember, a few small steps can lead to big changes.